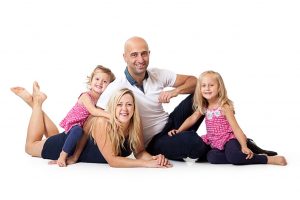 Parents and Children
Your immediate family is the most important part of your life, the reason you do everything. It is loving, fun, thrilling, joyful and sometimes exasperating but you wouldn't change it for the world.
There are many changes and events in your family that soon become a distant memory. Your Family Portraits help you treasure those precious memories forever.
What is a family portrait?
Family portraits have been around for centuries. Originally they were painted by artists as a symbol of status, power or profession – the proud father surrounded by his adoring wife and children, and often the family dog as well. They were expensive to commission and time consuming, often taking many sittings to reach the final result. For this reason, family portraiture was limited to the landed gentry, the nobility, or royalty – namely only members of the ruling classes.
You can find some excellent examples of family portraiture throughout history in most stately homes especially those of the National Trust and a visit to the National Portrait Gallery is a must - great idea before deciding on having your family portraits.
Photography and the family portrait
By the mid-1800s, photography began to take a grip, and photographers were well respected and often belonged to the social elite. The process of producing a family portrait was more affordable than having a picture painted, and families began to go to photography studios, usually to celebrate a special occasion. The style in those days was serious and dignified, with elegant studio furnishings and decor suiting the mood. The anticipation that a permanent image was being created certainly was a momentous occasion for any middle-class family wanting to capture their family together as a lasting legacy.
Throughout the 19th and into the 20th century, photography became an integral part of modern life. With the advent of high street studios, event photographers and owning our own cameras (not to mention our more casual approach to clothing and fashion), family portraiture became more relaxed and informal. Of course nowadays with the advancement of digital technology, everyone owns a point and shoot camera through their phone, and we have all become used to being photographed in every conceivable situation.
The downside to the accessibility of photography means that we take photographs without thinking. We point and click with our mobile phones without ever truly appreciating the image we've just created – our child blowing out the birthday candles; Grandma with a silly hat at the Christmas dinner table; Mum at her 60th party celebration... they are then consigned to the dreaded 'gallery' in our phones never to be seen again – thousands of pictures that we have no time or desire to revisit. And where is the nuclear family group that is the true legacy of our lives?
I guarantee that it's nowhere to be found, as we were more involved in catching the occasion rather than the meaning of our family together. It seems to me that the more we photograph, the less we value our images.
What do your family portraits mean to you?
Whatever type of family you are – single-parent family, black, white, same-sex, extended family with grandparents... It's YOUR family. And it's important to document it for you and your children, and for the generations yet to be born. To see your family on a daily basis in a beautiful family wall portrait, together as a family unit, safe, happy and valued. In years to come, you'll always have that photograph to treasure; and your children will always be able to look back and cherish the love within their family.
Having a professional family photograph taken is so much more than just pressing the shutter. It's about recognising relationships.
If I were to ask you 'So, what's your son like', I guarantee you wouldn't give me statistics 'He's 8'. 'He's got brown hair'. 'He's tall for his age'. You'd be more likely to tell me about who he IS:
He's sweet and loving and loves playing in the garden.
He's really smart and funny but can be lazy if he thinks he can get away with it.
He's quite shy and doesn't like to be the centre of attention.
He loves dogs...
There would be a million things you'd want to tell me about him. And the same goes for all the members of your family. Because that's how much they mean to you. That's what relationships are – they're complex and diverse, and full of love.
So the next time you think about having your family portraits, consider what it really means, and how important it will be to record your family together in a way you want to be remembered. Make sure you get it right. Make sure you choose a professional photographer who really gets how important it is to understand who you are as a family after all they will be your family portraits.