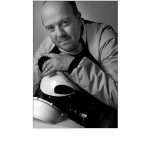 Biking - More Than Just a Hobby
You spend time getting the bike you love; it's your pride and joy - and it becomes a part of your life. Hoss knows this because after many years of thinking about it and remembering his younger days of riding in the deserts of Iran, he has finally given in and acquired the bike of his dreams.
It's a great feeling, and Hoss will capture the essence of man and bike together.