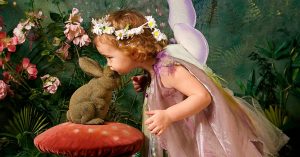 A Magical World of Fairies and Elves
Every child loves the wonder and mystery of an enchanted wood. Here they can enjoy being a Fairy or Elf in our beautiful fantasy fairy glen, complete with stunning costumes, woodland creatures and even a magical pond.
Please note that our themed photoshoots are seasonal and only run during Easter and October - please ask for our next available session dates.