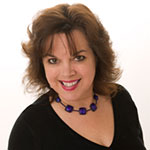 Tracy has a strong background in business development and marketing. She began her career as a Marketing Executive for EMI hotels, later becoming the corporate Business Development Manager for three of their most prominent hotels in the West End under the new ownership of Thistle Hotels.
She joined Hoss in his new photography business in 1994 and quickly became the first person ever to be awarded the prestigious title of Associate of The British Institute of Professional Photography in Business Management. As a trendsetter and leader in her field, she is in great demand as a conference speaker and undertakes consultancy assignments for many other photographic businesses.
She doesn't take photographs, but with over twenty years in the industry, she knows a good image when she sees one! 'I feel very confident running a business where I know that the photographer is so talented. It's a great feeling knowing that we'll deliver the very best for our clients'. Her pivotal role in the business ensures that Hoss Photography continues to go from strength to strength.
She is also the first voice many clients hear when they first call, and she is adept at ensuring they feel comfortable, relaxed and welcome.
Tracy writes business articles to help others.
Marketing Strategy - Finding Your USP
Customer Service - Going That Extra Mile

Connect with Tracy on her LinkedIn page