Here at Hoss Photography, we know that professional family photography is not on your list of priorities. Too many other things to consider - fix the washing machine, service the car, buy new school uniforms. Everyday modern life has a way of clouding our view of what really matters. And never has this been hammered home to me more clearly than on a recent trip to Northern France.
In 1914 my great uncle aged 16, signed up as a volunteer for Kitchener's army; what fun it was going to be. In July 1915 he was shipped over to Northern France with his mates; the great adventure was about to begin. In September 1915 he arrived in the tiny village of Berles au Bois on the front line; life in the trenches was not the fun he'd envisaged. On 19th December 1915 he died; aged just 17.
In July this year my father turned 80, and even though he'd never met his uncle, his greatest wish was to visit the grave and pay his respects. It was an unbelievably emotional experience to see that so many young men had lost their lives in the most terrifying and dreadful way imaginable. We also visited the Thiepval Memorial which has the names of over 72,000 soldiers who died in the Somme region, but whose bodies were never recovered. All those young men; all those families who lost a son, a brother, a husband.
We have no photograph of Great Uncle Albert.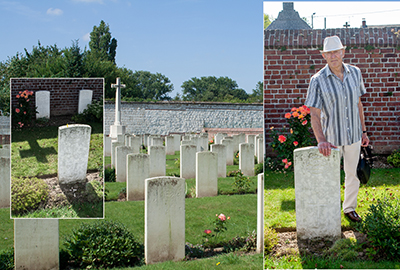 So as you race through your busy life, charging from one hectic day to the next, take a moment to appreciate that memories do matter. Not only now, to record your togetherness as a family, but for future generations to know who you were; how you looked; and to rejoice in your memory.